Admission of works for International Contests "In My Homeland" is started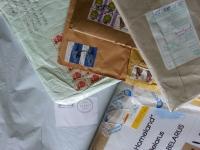 Dear participants! We are pleased to announce the beggining of the acception of the works at the 16th International Art and Graphics Contest and the 6th International Cartoon and Film-Strip Contest. We are very pleased that all this time you remain with us and support contest with your wonderful artworks, fresh ideas and kind words! We we are waiting for your works and remind you about some of the organizational aspects.
The admission of works for the Art and Graphics Contest lasts until December 31, 2020 (according to post stamp).
See the terms of Art and Graphics Contest
The admission of works for the Cartoon and Film-Strip Contest lasts until January 15, 2021.
See the terms of Cartoon and Film-Strip Contest
We ask you to send works for the Art Contest with regular or EMS post. On the parcels DO NOT indicate the value (price) of the goods. We do not go through customs clearing with the works arriving at the Contest, therefore those parcels, which are wrongly formalized will not be admitted to the Contest.
OUR POSTAL ADDRESS:
NGO "Green Cross Belarus"
Contest "In My Homeland"
222 201, Smolevichy, Minsk region, Belarus
(Provided postal address is complete. The works are picked up directly from the post office.)
Contest results will be presented on February 2021 by international jury board, which will consists of artists, animators, litterateurs and teachers from Belarus, Russia, Ukraine and other countries.
The winning works will enter the exposition of the final exhibition of the Contest that will open on April 2021 in Minsk. It also will be represented on contest's and GCB web-sites.
To keep you informed about all the events of the contest, you can subscribe to the e-newsletter of the "In My Homeland" project (you need to send a request to the address info@children-art.org with the name of the recipient, as well as an educational institution, if the recipient is an artist and teacher).
WE WISH YOU INSPIRATION AND NEW DISCOVERIES!
WE LOOK FORWARD TO YOUR WORKS!