The experiment succeed: experts from 8 countries gathered their exhibitions of children's art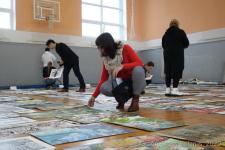 This year, the organizers of the International art project "In My Homeland" decided to hold an experiment that would reflect the similarity and differences of views of artists and teachers from different countries on children's art. The experiment was carried out in cooperation with a sports kit in Smolevichi on January 28, 2020.
10 experts from 8 countries - Belarus, Russia, China, Bulgaria, Romania, Poland, Lithuania and Ukraine - spent the whole day looking at children's works. Review took place in 7 age groups. The most numerous groups consisted of the works of authors 5-6 and 7-8 years old, the smallest was the group of works of authors 17-18 years old. In order to view all the works, organizers had to fill the 300 m2 space of the sports hall 3 times.
The task for the experts was very difficult: among the many works they need to select the best in their opinion. Representatives of each country could choose no more than five works in each age category. Someone was more guided by intuition and emotions, someone approached more rational. For example, Chinese experts clearly defined their criteria - originality, emotionality, integrity and technical skills, Aldona Kolutska from Poland payed more attention to interesting experiments, Bulgarian expert Ivan Stoyanov looked for, among other things, a reflection of national traditions.
As a result experts from every country chose  their own exhibitions from near 35 works each. All 8 exhibitions were presented during the conference of teachers-artists held on February 1-3, 2020 at the Green Cross Belarus educational centre. They also will be included in the final contest exhibition of this year that will be held in Minsk in April.