Open international art contest "Watermelon and his friends"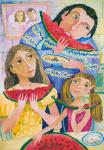 The "School Garden" project team announces the International Art Contest "Watermelon and His Friends". We invite everyone who inspires this topic to create interesting reportage material to participate in it. Representatives of school teams who tell about their experience in watermelon study within the network experiment, and amateur vegetable growers who share their achievements in their garden plots, and those who want to play the role of a journalist, photo reporter or video director - tell about someone's success in growing watermelons or other crops. The competition is held among residents of three countries - Belarus, Ukraine and Moldova.
Contest participants are offered several options of a "watermelon" theme to choose from:
Watermelon stories
Watermelon in our (my) life
How we raised watermelon
Watermelon and his friends (free theme)
Works will be evaluated in four nominations:
Article
Reportage photography
Reporting in social networks
Video story
Works are accepted from June 15 to August 15, 2019. Summing up the competition and awarding the winners will be held during the holiday "Day of the Watermelon and His Friends", which will be held August 24-25 in Loyev. The winners, who will not be able to participate in the celebration, will receive prizes and diplomas by mail.
For more information about the conditions of participation in the competition and the requirements for creative works, see the Regulations on the contest "Watermelon and his friends"
The organizers reserve the right to use the works sent to the competition in order to popularize the competition, the project "EU4Youth:" School Garden "for Agricultural Entrepreneurship", its pilot initiative "Watermelon and his friends", as well as the holiday "Day of Watermelon and his friends " without the consent of the author and without paying remuneration.
Contact Information:
+375 29 6675780, +375 44 4650456
To illustrate the article, we used the work of Anastasia Nebokatkina (12 years old, Senno, Belarus), who received a diploma as a participant in the exhibition of the 7th International Art Contest "In my homeland".
________________________________________
This publication has been produced with the support of the European Union and the Green Cross International. Responsibility for the content of this publication lies with the public organization "Green Cross Belarus", and it can in no way be taken to reflect the views of the European Union and  Green Cross International.